SplashID safely and securely stores all your personal identification information including user names, passwords, credit cards, calling cards, bank accounts, PINs, and more. Information is stored in a secure, encrypted format and is quickly accessible on a Series 60 3rd Edition smartphone or Desktop computer with the included desktop software.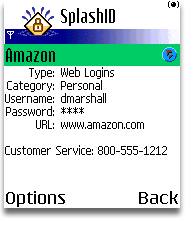 Features:
Unlimited number of customizable record types and categories for storing all kinds of personal information

Customizable List View supports color and icons

Password protection, using Blowfish encryption, keeps your data safe and secure

Send records to other SplashID users

Custom Icon support

Field Masking (for sensitive data like passwords)

Customizable Field Labels on a per record basis

Automatic Password Generator - for generating passwords based on user criteria.
Name
Comment and rating
John
(xxx.jevc.ac.uk)
on 2008-06-23 16:12 CET
Agree with above. I was a very satisfied user of SplashID for many years on my Palm Pilot. Bought SplashID for Symbian only to encounter the password problem. I asked when it was going to be fixed and despite a reminder I'm still waiting for an answer. I'm now angry and disappointed and not only will I be buying a replacement for SplashID, but I won't be buying any of their other apps either.
Tor
(xxx.appliedbiosystems.com)
on 2008-04-11 21:27 CET
In theory this is the best application out there. It allows you to synchronize your sensitive data between a desktop client (Windows, Mac) and the phone. In practice, the Symbian S60 client is useless. As soon as you set a password, the application will no longer start (it prompts you for the password, then just quits). What's the point of having your data in an encrypted vault if you cannot also password-protect it!? Also, the Symbian client is a revision behind other versions (Palm, Windows Mobile, desktop...)
Anonymous
(xxx.nokia.com)
on 2007-07-16 14:55 CET
No search/find