Simkin is a high-level lightweight embeddable scripting language which works with Java or C++ and XML. Simkin enables you to hand over control of part or all of your application to your users. The language has been designed to be easy enough for non-programmers to use, and easy for you to supply a simple API for them to write to. It could revolutionize the way your system gets developed - you provide the mechanism, others can decide the policy. Simkin for Java and C++ is a free Open-Source product.
Simkin has the following main features:
Available for Java or C++ and XML

Easy to embed - by overriding base classes or implementing interfaces

Easy to script - the syntax is simpler than Javascript!

Low runtime overhead - you control the memory, no garbage collection

Low memory footprint - Simkin for Java is a 50k Jar file, Simkin for C++ is a 200k lib file for Visual C++

Flexible script files - they can contain data as well as code

Flexible Object Model - impose the object model you choose for your scripters

Cross platform - written in standard code for Windows, Unix, Mac and more

Source code provided - customization and support available
The following screenshots come from Simkin demonstration application for Symbian UIQ platform: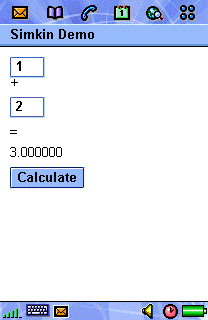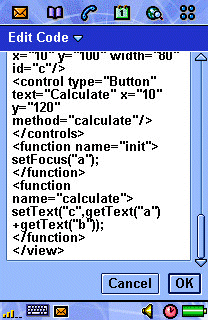 Please, visit
http://www.simkin.co.uk
for detailed information and to download everything you need to start your work.
Company

Home page or Support email

Category

Compatibility

Language

Type

Open Source

Download free/trial

Purchase full version

-

Average user rating

(3 votes)

User comments

No comments yet

Rate and comment on this application

Compatible phones
(unless stated otherwise in the program description above)

Sony Ericsson P910, P900, P800, Motorola A920, A925, A1000, M1000, BenQ P30, P31, Arima U300, U308, Nokia 6708