HandWallet Business is a tool for tracking expense & income and for planning your budget.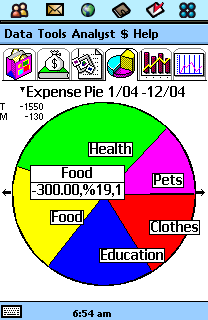 HandWallet Business is a commercial, advanced version of the freeware HandWallet Basic application.
Support all devices in your organization. If you change your type of PDA (PocketPC-Palm-Symbian) the license and the data remains.

Includes all functionality of HandWallet Pro.

Track invoices, receipts, and Tax.

Build product trees.

Price, quantity and currency can be pre-defined and online updated for each product in the tree you purchase or sale.

Fully integrates with your existing organization systems: The developer will build the interface to online sync with your servers without any extra charge.
Company

Home page or Support email

Category

Compatibility

Language

Visual Basic (requires AppForge Booster)

Type

Commercial

Download free/trial

Purchase full version

Average user rating

(3 votes)

User comments

No comments yet

Rate and comment on this application

Compatible phones
(unless stated otherwise in the program description above)

Sony Ericsson P910, P900, P800, Motorola A920, A925, A1000, M1000, BenQ P30, P31, Arima U300, U308, Nokia 6708